An area of considerable confusion is that of bed sizes in the UK. Different manufacturers may use slightly different terminology to name different bed sizes. Further confusion can be caused by hotel chains that use US or European names to refer to their UK beds. You should always remember that when referring to bed size we are talking about mattress size rather than the overall dimensions of the bed itself. A divan bed will often have very similar size to the mattress but a frame bed can often be a bit larger.
Further confusion is caused by the fact that by law mattresses are sold in metric sizes although everyone refers to them in imperial sizes!  So here is our definitive guide to UK bed sizes followed by our UK bed size chart:
Small Single bed size (2'6″ wide)
A small single bed measures 75cm x 190cm. This is approximately equivalent to 2'6″ x 6'3″. This size is not really adequate for most adults and is more suitable for children and young teens.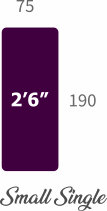 Single bed size (3′ wide)
A single bed (sometimes referred to as "standard single") measures 90cm x 190cm. This is the equivalent of 3′ wide and is often referred to as a three foot bed. This is an adequate size as a single bed for a normal adult.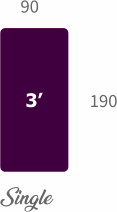 Small Double bed size (4′ wide)
Not a popular size as it's not really big enough for two adults to sleep in comfort. A small double measures 120cm x 190cm.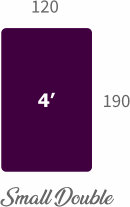 Double bed size (4'6″)
The most popular size in the UK for a bed sleeping two adults. A double bed measures 135cm x 190cm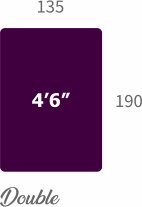 King Size bed size (5′)
Rapidly becoming a popular size in the UK giving plenty of room for two adults. Confusingly this size is often described as a queen size in North America. As well as being wider the king size is longer than the double size. A king size bed's dimensions is 150cm x 200cm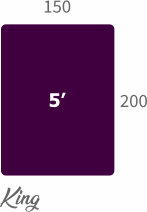 Super King bed size (6′)
This is a luxury size that is often a little too large for UK bedrooms. A super king size bed in the UK measures 200cm x 180cm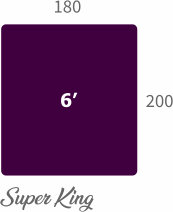 UK Bed Size Chart
Light grey numerals are UK bed sizes in cm