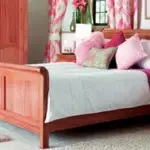 The Simba Hybrid Mattress is a versatile bed-in-a-box style mattress. Suitable for anyone whether you sleep on your back, your side or your front, or a combination of all three. This mattress offers excellent levels of support and comfort and will work with any type of bed base. With their money back guarantee you can't go far wrong!
There are three levels of Simba Hybrid mattress. The basic version has 5 layers the Hybrid Pro has 7 layers and the Hybrid Luxe has 10 layers. Mattress thicknesses are 25cm, 28cm and 30cm respectively.
This hybrid mattress is ideal if you get over-warm at night, particularly if you go for the pro version with it's extra wool  layer.
Simba Mattress Construction
Simba mattress construction is very simple but very effective! There is a breathable sleep surface, the unique open cell simba-pure layer, the aerocoil spring comfort layer, simba pure with edge support and the support base. The hybrid pro adds a wool layer and an extra aero coil layer, while the Simba hybrid luxe adds an extra carbon spring layer.
Simba Hybrid Mattress- how firm?
The Simba mattress is of an average amount of firmness. It will suit most people. If you are looking for a softer mattress you could try the Emma range of mattresses..
Simba Mattress – free trial
Top of the range mattresses are not cheap so you will want to make sure that you make the right choice. Simba offer you a money back deal. If you don't like the mattress you can get a full refund as long as you notify them within 200 days. They also offer 0% interest deals.